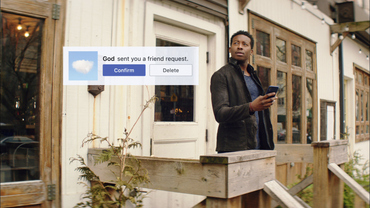 Would you accept a Facebook Friend Request sent by GOD? CBS officially debuted it's new TV show "
GOD Friended Me
" to audiences worldwide.
In the new show viewers are introduced to "GOD" aka "The GOD Account". GOD is a cloud of glory, in his profile picture and as seen by the show's main character Miles Finer (played by Brandon Michael Hall). Finer who is a practicing and very promoting unbeliever is hell bent on distancing his self from the relationship he held with GOD as a child.
Everything is going fine until "The GOD account" reaches out to Finer via Facebook. Although "GOD" makes several familiar introductions like appearing as a burning bush... as finer reluctantly engages with the account he finds himself in the midst of extraordinary, unexplainable situations linked back to GOD.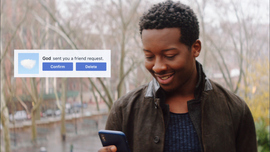 The truth reflected is that GOD is known to make introductions in unorthodox ways. GOD usually disrupts "the norm". We know this from accounts featured in the Bible like (

Balaam and his donkey

) and hopefully how we've experienced GOD in the timeline of our own lives.
GOD Friended Me is interesting because it poses critical questions: "Are you willing to engage with GOD and help do the work He calls you to do? Are you willing to cultivate a real relationship with Him, Have an ongoing conversation and seek to honor the good advice with execution?"
In addition to the questions it helps to uncover, the show feels like a continued conversation, a revisiting of the remarks we've seen played out in our culture concerning religion, spirituality, and how much free will we actually have. Rakesh, the character (played by Suraj Sharma) is from a family that believes in arranged marriages. The first arranged date we see Rakesh on surprisingly goes well. He even gives his new love interest a single rose by the end of the episode just like "The Bachelor" does with his potentials. Rakesh and his arranged lover engaging in pre-marital sex, (or about to) automatically visits how our beliefs may cross with our nature.
A pleasing addition to GFM is the "Brother From Another Planet" Joe Morton bringing his powerful screen presence to the show playing Miles Finer's father, Reverend Arthur Finer. As Miles tries to make sense of the pieces GOD gives him to work with, the show is even more tinged with mystery drama and "Scandal" like suspense. Hopefully we get that "Hell hath no fury like Papa Pope" energy also vested in "Papa Finer" as the show goes on.
"GOD Friended Me" examines relationships, with GOD, ourselves, and the people around us. It speaks of owning the power to overcome our troubles, or the bitterness we may harbor from past experiences. It mirrors how GOD connects the events of our lives for His glory.
The truth reflected is that redemption and reconciliation is possible at the "request" of GOD's spirit within us.
Since it's from the same network that brought us "Touched By An Angel" believers may be in good hands to check it out.
GOD Friended Me currently airs on CBS. Time information can be found on it's official site: https://www.cbs.com/shows/god-friended-me/
(All Pictures courtesy of God Friended Me CBS)